What's New?
ALERT: IMPORTANT NOTICE FOR 11/26 Wednesday Comics Shipment!
We are disappointed to report that, once again, we do NOT have our shipment of new comics for this week. We are SO SORRY for your disappointment! We will have the comics available on Black Friday, so please stop in and see us then! On a brighter note, Happy Thanksgiving to all of our loyal customers and Facebook friends!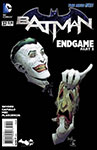 You Gotta Read These!
Our top comic picks for this week...
The Fade Out #3 (Image)
Outcast #5 (Image)
The Walking Dead #134 (Image)
Batman #36 (DC)
Klarion #2 (DC)
New Suicide Squad #4 (DC)
All-New Captain America #1 (Marvel)
Captain America and The Mighty Avengers #1 (Marvel)
Spider-Verse #1 (Marvel)
This week's new comics: See the complete list! (Updated for 12/3)