What's New?
New Comics every Wednesday!
This week's new comics: See the complete list! (Updated for 04/22/2015)
NEW! Dungeons & Dragons Miniatures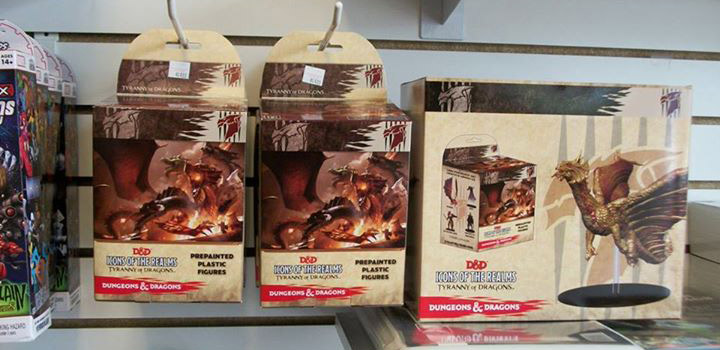 We have the new Dungeons & Dragons Minis in stock! Looking very cool!
Boosters are $14.99, the Ancient Brass Dragon is $39.99.

Lots of HeroClix in stock:
Boosters:The Flash, Batman, Amazing Spider-Man, Teen Titans, Wolverine & X-Men, Invincible Iron Man, Superman & Legion of Super Heroes, Deadpool, and Guardians of the Galaxy.
Gravity Feed: The Flash, Thor: The Dark World movie, Lord of the Rings: The Return of the King movie, Superman & Legion of Super Heroes, Guardians of the Galaxy Movie, and Guardians of the Galaxy.
Also: Rogues (The Flash villains) fast forces, Yu-Gi-Oh! starter, Legion of Doom fast forces, and Inhumans fast forces.
Huge HeroClix selection!
Lots of other HeroClix available on the shelves and on our eBay Store. Stock up and then show your skillz in one of our HeroClix tournaments!
Next HeroClix Tournament:
Play Day
Saturday, April 18
No Rules today!
Bring your clix, or borrow some of ours!
Learn to play, play test your teams, or make it up as you go!
See the full list of this month's tournaments and find out a little about what to expect at our HeroClix Tournaments page.